Data Protection in Romania
Searching for Data Protection in Romania Service? Customer reviews to help you select from the best, most experienced Lawyers in Romania
Established more than
10 years ago
Present in 20
European Countries
Over 30,000 client enquiries
successfully managed
Data Protection
Available in the following locations: Timisoara
* If your local town is not listed, a lawyer from our nearest office will be happy to assist you.
Who Is This Service For?
With the arrival of the General Data Protection Regulation (EU) 2016/679, businesses across the world have been forced to scramble to ensure they are compliant. While currently emphasis is being placed on the management of personal data by large multinational tech companies, companies of all sizes are required to comply.
The data of individuals is the subject of the GDPR protection and consequently the impact is felt across an organization who processes their personal details: identifying who is the data controller, how data is obtained and its lawfulness of processing, technical and organizational measures to be taken in order to ensure data security, the DPO role within a company, how to manage a right request from the data subject, how to protect the confidential data managed by a processor, data protection impact assessment, how long data records can be retained, identifying special categories of data, etc.
What Does This Service Consist Of?
Initial discussion with an English-speaking lawyer specialising in Data Protection to understand the scope of your business and likely measures that you will need to implement to ensure compliance
A report detailing policies that will need to be implemented to ensure compliance
Assistance with implementation including drafting of policy documents, employee training and 3rd party contracts.
Ad hoc advice
Free Support Services Included
When combined with the free and innovative Advocate Abroad support services you can be sure that you are obtaining completely transparent legal services from registered and regulated English-speaking lawyers abroad.These support services include:
Verification of the regulatory status of your professional.
Fees as recommended by the Local Professional Body
Fees specified in advance and legally guaranteed.
Service levels agreed in advance and guaranteed.
All professionals must hold professional indemnity insurance.
Professionals' proficiency in English monitored.
Continuous quality controls and reviews.
Why choose Advocate Abroad?
Our Lawyers
Bogdan, Lawyer in Timisoara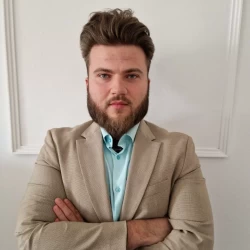 Having obtained a Masters degree in law as well as receiving a prize in the most important global competition for young lawyers in Washington DC, Bogd... Read More
Having obtained a Masters degree in law as well as receiving a prize in the most important global competition for young lawyers in Washington DC, Bogdan has been practising law for the last 6 years, having previously spent a number of years working in Romania's largest law firms. He has been assisting principally foreign clients during this time and provides legal services in the following fields: civil law (including property and inheritance matters), immigration law, criminal law and business law. He speaks English fluently.
---
Customer Reviews
Sadra Banisefid
Jan, 31 2023
Very dedicated, enthusiastic, on time and understood my situation.
Call us Now