Draft Employment Contracts in Hungary
Searching for Draft Employment Contracts in Hungary Service? Customer reviews to help you select from the best, most experienced Lawyers in Hungary
Established more than
10 years ago
Present in 20
European Countries
Over 30,000 client enquiries
successfully managed
Draft Employment Contracts
Available in the following locations: Budapest
* If your local town is not listed, a lawyer from our nearest office will be happy to assist you.
Who Is This Service For?
For those businesses who do not have the benefit of an internal legal or HR department, it is necessary to have an expert draft effective contracts of employment ideal for the nature of your business and your individual circumstances.
What Does This Service Consist Of?
An initial discussion with an experienced English-speaking employment lawyer to understand the nature of your business and employee relationships
Drafting of proposed contracts and presentation
Follow-up meeting to discuss any additional questions or concerns the employer may have before finalising the contracts
The lawyer will normally offer a discount for multiple contracts
Free Support Services Included
When combined with the free and innovative Advocate Abroad support services you can be sure that you are obtaining completely transparent legal services from registered and regulated English-speaking lawyers abroad.These support services include:
Verification of the regulatory status of your professional.
Fees as recommended by the Local Professional Body
Fees specified in advance and legally guaranteed.
Service levels agreed in advance and guaranteed.
All professionals must hold professional indemnity insurance.
Professionals' proficiency in English monitored.
Continuous quality controls and reviews.
Why choose Advocate Abroad?
Our Lawyers
Peter, Lawyer in Budapest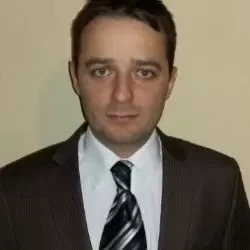 Peter graduated from the university of Pécs, Hungary including one semester in Berlin HTW Business law faculty spent as an ERASMUS student. After his... Read More
Peter graduated from the university of Pécs, Hungary including one semester in Berlin HTW Business law faculty spent as an ERASMUS student. After his studies he worked one year at the audit department at Deloitte. Later he specialised in civil-, company- business- and procurement law. Peter has 10+ years experience as a lawyer, speaks and works in Hungarian, English and German.
---
Customer Reviews
Murielle Gaudio, Luxembourg
Jun, 02 2021
Further to the passing of my daughter, I contacted Peter to assist me with the closing of her bank account in Budapest. Peter was extremely helpful in dealing with the bank. Not an easy situation as receiving the proper information from them was quite challenging, but he definitely stayed on top of the case and did his utmost for ensure that the necessary was done.

He always kept me duly informed of the progress and provided assistance as well with the local steps I had to undertake here in Luxembourg wit the Hungarian Consulate. Peter also helped me with other Hungarian administrative documents which I had received for my daughter to ensure that nothing was left pending. He took the time to contact the required offices to advise them of the passing of may daughter and that whatever needed to be done with them was done. I would have not been able to solve this without his assistance.

Peter was always very professional and I felt really got himself involved in the matter. I truly appreciated his assistance and it would be a pleasure to have the opportunity to meet him and thank him in person. I could have not asked for a better person and better support.
Ciaran Kennedy
Aug, 29 2022
I cannot praise my solicitor Peter Adrian enough. Peter was patient, caring and knowledgeable. Peter kept me up to date with everything, even out of hours and on his holiday!

All I can say is thank you Advocate Abroad for getting me in touch with Peter and thank you Peter for going above and beyond at all times.
Ciaran Kennedy
Oct, 17 2022
I cannot praise my solicitor Peter Adrian enough. Peter was patient, caring and knowledgeable. Peter kept me up to date with everything, even out of hours and on his holiday!

All I can say is thank you Advocate abroad for getting me in touch with Peter, and thank you, Peter, for going above and beyond at all times. [View on G o o g l e ]
Richard Pearson
Jan, 03 2023
My lawyer Peter was very efficient and even visited me at my home to help with my legal position.

I am very pleased and would happily request him again. Thank you, Peter. [View on G o o g l e ]
Call us Now