Trademarks in Greece
Searching for Trademarks in Greece Service? Customer reviews to help you select from the best, most experienced Lawyers in Greece
Client testimonials
"Highly professional, efficient service. Response to our urgent email almost immediately. Our lawyer, very approachable and helpful with the handling of this case and intercepting everything into English for us. The service provided was excellent value for money."
Rhona Goodwin (Nov, 16 2022)
Client testimonials
"I found the service very helpful and easy to use. It took the fear out of employing a legal service in that it was upfront and transparent and reasonably priced."
Derry Conran (Nov, 02 2022)
Client testimonials
"Very responsive and reached out to me via phone call to set up a consultation. Answered all my questions and was willing to help."
Natalie Stephens (Oct, 24 2022)
Client testimonials
"Proactive, always helpful and ready to answer questions, took control of my issue and clearly explained what I needed to do. Good value."
Jerry Lockspeiser (Oct, 16 2022)
Client testimonials
"Very professional and knowledgeable. Came well-prepared to the meeting. I am extremely satisfied."
Piotr Nagalski (Oct, 11 2022)
Client testimonials
"Responsible, understanding, good personal contact. Always finding time for us, very kind and helpful."
Paul Tapper (Aug, 09 2022)
Client testimonials
"My lawyer was amazing. Every question quickly answered."
Client testimonials
"Amazing service. Would recommend to everyone."
Noreen Murphy (Mar, 18 2022)
Client testimonials
Excellent service, very quick to explain all procedures and possible outcomes. Once our lawyer began, the service was extremely professional and thorough, with clear communication at every stage. The problem was dealt with in a very short time, I could not ask for better or more professio... Read More
Excellent service, very quick to explain all procedures and possible outcomes. Once our lawyer began, the service was extremely professional and thorough, with clear communication at every stage. The problem was dealt with in a very short time, I could not ask for better or more professional service.
Malcolm Shaw (Mar, 07 2022)
Client testimonials
"I found my lawyer to be prompt with all responses. My requirement was identified and understood, and I was advised of any potential complications. I found the service provided to be both professional and approachable. Overall, I was very pleased with the service!"
Client testimonials
"Very, very happy with the service provided. I would definitely recommend my lawyer and would be very happy to use the service again. I felt in good hands immediately."
Joanne Mulvany (Feb, 01 2022)
Client testimonials
"My lawyer was responsive and engaged and always willing to help. Everything went smoothly, and I received explanations regarding all the caveats. I highly recommend this service."
Tomasz Weglinski (Jan, 18 2022)
Client testimonials
"Our lawyer was very helpful, professional and kind - nothing was too much trouble. If I left a message, we got a reply within 24 hours. Would recommend this service to anyone."
Michael Bailey (Dec, 13 2021)
Client testimonials
"I was extremely pleased with the whole service."
Rex Millward (Jul, 02 2021)
Client testimonials
"Extremely helpful, trustworthy, and went beyond expectations to help and serve me as a client."
Established more than
10 years ago
Present in 20
European Countries
Over 30,000 client enquiries
successfully managed
Trademarks
Available in the following locations: Thessaloniki
* If your local town is not listed, a lawyer from our nearest office will be happy to assist you.
Who Is This Service For?
Any business may wish to apply to create a trademark that will protect the usage of – and accrue benefits from - aspects of their business which might involve specific logos, words or other distinctive features of their business.
In short, a trademark can protect those features which together form a brand. Often, this can be one of the most valuable intangible assets of a company and it is vitally important to protect and, on occasions, defend.
What Does This Service Consist Of?
If you wish to register a trademark, a specialist English-speaking lawyer in the field will assist you with this process by making the initial application and carrying-out all follow-up until the trademark is registered. Registration can be at the national or European level.
If you believe that an existing trademark has been infringed, then an initial consultation will be provided so that the specialist lawyer can determine if an infringement has taken place and then discuss the process for obtaining relief and/or suitable remedies
Negotiation with those parties who are infringing the trademark, as well as representation in formal legal proceedings if such parties fail to desist and/or fail to redress any injury or loss suffered
Free Support Services Included
When combined with the free and innovative Advocate Abroad support services you can be sure that you are obtaining completely transparent legal services from registered and regulated English-speaking lawyers abroad.These support services include:
Verification of the regulatory status of your professional.
Fees as recommended by the Local Professional Body
Fees specified in advance and legally guaranteed.
Service levels agreed in advance and guaranteed.
All professionals must hold professional indemnity insurance.
Professionals' proficiency in English monitored.
Continuous quality controls and reviews.
Why choose Advocate Abroad?
Our Lawyers
Joanna, Lawyer in Thessaloniki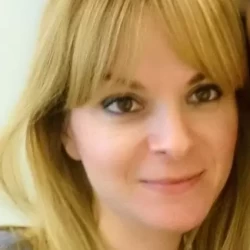 Cases completed 50
Joanna is a Greek lawyer fluent in English, Italian and Spanish, registered with the Bar Association of Thessaloniki since 2008. She obtained a Master... Read More
Joanna is a Greek lawyer fluent in English, Italian and Spanish, registered with the Bar Association of Thessaloniki since 2008. She obtained a Masters Degree in Transnational and European Commercial Law & ADR. She has worked as an independent lawyer for more than 10 years and has represented British and International clients before the Greek authorities in that time. She has experience in commercial law, corporate law, contract law, investment law, real-estate law and consumer law, as well as in alternative dispute resolution, having participated in arbitration proceedings and out of court negotiations.
---
Customer Reviews
Fiona Lingard
Aug, 11 2022
Joanna responded quickly to my enquiry and knew all the information needed to assist.

She was extremely professional, explained everything that would be required, the steps to be taken and gave a timeframe for the work which was met.

She was proactive and chased matters without any prompting from me. Excellent value for money. Highly recommended!
Boris
Jul, 21 2022
Quick to respond and always in a professional manner with the correct information.
Emma Fraser
Apr, 25 2022
Exceptionally happy and satisfied with the service provided, after a while of trying to find the right company to help with my situation, Advocate Abroad exceeded my expectations in regard to their professionalism, ability to understand and explain and provide appropriate solutions, responsive and approachable.

Exceptional customer service and great value for money!
Gal
Apr, 21 2022
The most professional service for certification. Recommended for everyone to work with her
Maria Cornale
Apr, 05 2022
Very professional and extremely quick, responsive and caring.

Did what she was paid for and of what we asked for. Price is good and fair. Couldn't of asked for any better service than what we were provided with.

Top notch. Keep up the good work. Thank you so much!
Candace Raphael
Jan, 04 2022
Joanna's determination was exactly what we needed after trying to obtain citizenship for 15 years. Even when we seemed to run into additional obstacles, she found ways around them.

She worked hard, was extremely professional, and explained things well to us considering our Greek is limited. An absolute wonderful value for the money and worth every penny.

Sometimes there'd be a lapse in communication because we were waiting on the appropriate authorities and we'd get worried, but Joanna would always come through.

Ours was a tough case that many had abandoned (including us at points)!
Masoud Shahsavari, Thessaloniki
Nov, 25 2021
Very responsive, punctual. Very professional and gave the greatest service ever. Very decent price with her service.

She knows the law very well. Very fast to get the job done in time. Very honest and detail oriented.

She also followed up the mail which is been sent by her to me in Canada every week. Very caring. She does not look at you as "Money".

Just saying thank you for what she did was not enough. I would strongly recommend her to anyone who lives abroad and need to get the job done fast with no issue. You can 100% put your trust in her.
James Cook, Thessaloniki
Jan, 07 2021
Joanna made my life very easy she is very fluent, very professional and made sure the process ran smoothly and was finalised even throughout Covid she made sure I got everything I needed finished.

A pleasure to work with would recommend her highly if you wish to buy land in thessaloniki.
Sorin Mocanu, Thessaloniki
Oct, 02 2020
Joanna was very professional from the beginning until the end of the project.
Moreover, she was very patient and adaptable in assisting us with all the purchase process, in spite of all the problems that appeared with the papers, owners, delays because of pandemic seizures.
I will definitely recommend her and will work with her in the future.
Michel Saba, Athens
Jun, 30 2020
Joanna is an excellent lawyer.

The necessary information about my case was collected and verified, she was understanding and responsive, she was able to explain to me my options and to provide the appropriate solutions.

The promised results was delivered on time. I definitely recommend her to my friends.
Irene Peios, Thessaloniki
Mar, 20 2020
Very friendly, professional and very honest. She made an excellent job, making sure to charge us the fairest amount and not more. We appreciated that very much and look forward to work with her again in the future.
David Greenep, Thessaloniki
Mar, 19 2020
Joanna was amazing. I couldn't have done the purchase without her.  I will continue to be in contact with her as she is a very trustworthy and knowledgeable person and very professional!
Moreen Linskey, Thessaloniki
Oct, 15 2019
This professional was excellent in all respects. She was helpful understanding and was also very kind. We would definitely recommend her. We wish more solicitors were like this.

The service we received has been excellent and we would use your organisation again as well as recommending.
Tasos, USA
Jun, 05 2019
Joanna did an outstanding job and completed the project on time. She is multilingual and has excellent communication skills.

Great legal work based on the initially discussed objectives and deliverables. She is also pleasant to work with, and a great listener aimed at achieving the best possible outcome.

I have recommended Joanna's legal services to my friends.

Regards,
Tasos M., PhD, MBA
Entrepreneur
Houston Texas USA
AS
Jun, 21 2022
Joanna was great. She was responsive and knew exactly what needed to be done for our case. She gave us a lot of good information
Call us Now