English-Speaking Lawyers in Timis
Which Lawyers in Timis? Customer reviews to help you select from the best, most experienced Lawyers in Timis
Bogdan, Lawyer in Timisoara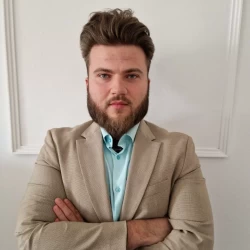 Having obtained a Masters degree in law as well as receiving a prize in the most important global competition for young lawyers in Washington DC, Bogd... Read More
Having obtained a Masters degree in law as well as receiving a prize in the most important global competition for young lawyers in Washington DC, Bogdan has been practising law for the last 6 years, having previously spent a number of years working in Romania's largest law firms. He has been assisting principally foreign clients during this time and provides legal services in the following fields: civil law (including property and inheritance matters), immigration law, criminal law and business law. He speaks English fluently.
---
Customer Reviews
Sadra Banisefid
Jan, 31 2023
Very dedicated, enthusiastic, on time and understood my situation.
See location of Lawyers on Map
1 Lawyers Offering Services in Timis
Established more than
10 years ago
Present in 20
European Countries
Over 30,000 client enquiries
successfully managed
Why choose Advocate Abroad?
Call us Now