English-Speaking Lawyers in Benidorm
Which Lawyers in Benidorm? Customer reviews to help you select from the best, most experienced Lawyers in Benidorm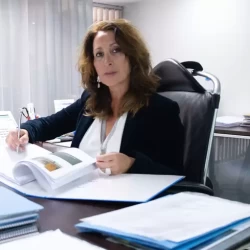 Cases completed 96
Consuelo specialises in property matters, family and inheritance, immigration and also assists clients with the initial phase of business incorporatio... [read more]
Consuelo specialises in property matters, family and inheritance, immigration and also assists clients with the initial phase of business incorporation and license applications.
---
Customer Reviews
David B
Nov, 03 2022
Very impressed with this service. Having a reliable expert to guide us through the process of owning a house in Spain was invaluable.

Even though we never met Consuelo in person, communication was clear and everything went smoothly. [View all G o o g l e Reviews]
Thomas Thomson
Jun, 29 2022
Was extremely satisfied with the response times and explanations and assistance that we received. No hesitation in using Consuelo for future legal work.
Susie Ashton-Leatherland
Jun, 27 2022
Consuelo has helped me every step of the way,from a frightening set of circumstances to her taking the reigns and helping me considerably. I wouldn't hesitate to ask for her help again. Susie Ashton-Leatherland [View all G o o g l e Reviews]
Aaron Dolan
May, 03 2022
I received a service from Consuelo, she was very helpful and prompt. She came back to me quickly when I asked a question and I am satisfied over all with the service she provided.
Peter Duffin
Mar, 02 2022
Consuelo provided an excellent service. Consuelo and her team were very responsive to our needs and helped us through any difficulties that arose, providing a very professional service.

I would highly recommend her to my friends and colleagues.
Arjan Schaap
Feb, 24 2022
Jon Winchcombe
Dec, 09 2021
Consuelo was extremely helpful in navigating the difficulties the residency system. She was always available to fully and comprehensively answer any questions we had, and held our hand through every step of the long process. It is hard to see how she could have done more to help us understand and alleviate any fears or concerns we had.

We will be using Consuelo for any other services we need as I don't think any other company could be more patient and supportive, and we would recommend her to anyone who needs to navigate the residency or visa system. We were very lucky to get such a first-class service from an excellent professional.
Patrick Mcdermott, Benidorm
Nov, 25 2021
Consuelo was able to carry out my instructions in a very professional way and communicated updates throughout the process.

I would use Advocate Abroad again.
Douglas Goddard, Alicante City
Oct, 25 2021
Consuelo was always available and very responsive to requests and work needing to be done. She dealt with all work in a very efficient way and provided good solutions to all queries raised by the Authorities.

Consuelo always went that little bit further to ensure all our requirements were completed within the timescales set by the Spanish Authorities. Consuelo was extremely professional and it was a great relief to me to use her services as she removed all the stress and anxiety elements from the process and I was completely confident in her abilities to deliver and would recommend her without hesitation 5 stars service.
Terry Fenttiman
Sep, 22 2021
Consuelo was very helpful and fully understood my needs she explained everything in detail and was very professional and responded very quickly to any questions I had, I have no hesitation in recommending her to anyone who needs a professional in that region of Spain.
Prepare for English, Alicante
Sep, 14 2021
Navigating the bureaucratic complexities of a post Brexit residency application at the Alicante Extranjeria office was a stress-free experience with Consuelo. Thank you very much! Highly recommended. [View all G o o g l e Reviews]
Antony P, La Manga Del Mar Menor
Sep, 02 2021
Consuelo was fantastic throughout the process of applying for Spanish residency.

She was always a phone call or a WhatsApp away whenever I had any queries. She went above and beyond to ensure everything went smoothly.

I would highly recommend Consuelo if you are looking for a solicitor
Ruth Lingley
Aug, 10 2021
Very responsive, got back to me promptly, answered all my questions thoroughly.
Anuradha Oogur
Jul, 15 2021
I definitely recommend Consuelo. Very professional, reliable, did the job with trust and confidence.

English speaking and found her very helpful quickly responding to emails, phone calls. No hassle with the work. I really appreciate her work. I will definitely recommend Consuelo as I bought property and her job was done on time without any difficulties.

Best of luck ,I will rate her work to 5 star!
Dinah Sparkes, Spain, Alicante
May, 17 2021
My case was handled very professionally. It was a delicate matter and I knew I was in a safe understanding pair of hands. I would definitely recommend this solicitor , efficient and no problems with the language. Well done great result!
See location of Lawyers on Map
1 Lawyers Offering Services in Benidorm
Established more than
10 years ago
Present in 20
European Countries
Over 30,000 client enquiries
successfully managed
Why choose Advocate Abroad?
Call us Now