English-Speaking Lawyers in La Manga del Mar Menor
Which Lawyers in La Manga del Mar Menor? Customer reviews to help you select from the best, most experienced Lawyers in La Manga del Mar Menor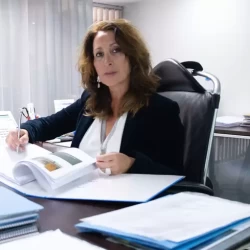 Cases completed 90
Consuelo specialises in property matters, family and inheritance, immigration and also assists clients with the initial phase of business incorporatio... [read more]
Consuelo specialises in property matters, family and inheritance, immigration and also assists clients with the initial phase of business incorporation and license applications.
---
Customer Reviews
Thomas Thomson
Jun, 29 2022
Was extremely satisfied with the response times and explanations and assistance that we received. No hesitation in using Consuelo for future legal work.
Aaron Dolan
May, 03 2022
I received a service from Consuelo, she was very helpful and prompt. She came back to me quickly when I asked a question and I am satisfied over all with the service she provided.
Peter Duffin
Mar, 02 2022
Consuelo provided an excellent service. Consuelo and her team were very responsive to our needs and helped us through any difficulties that arose, providing a very professional service.

I would highly recommend her to my friends and colleagues.
Jon Winchcombe
Dec, 09 2021
Consuelo was extremely helpful in navigating the difficulties the residency system. She was always available to fully and comprehensively answer any questions we had, and held our hand through every step of the long process. It is hard to see how she could have done more to help us understand and alleviate any fears or concerns we had.

We will be using Consuelo for any other services we need as I don't think any other company could be more patient and supportive, and we would recommend her to anyone who needs to navigate the residency or visa system. We were very lucky to get such a first-class service from an excellent professional.
Patrick Mcdermott, Benidorm
Nov, 25 2021
Consuelo was able to carry out my instructions in a very professional way and communicated updates throughout the process.

I would use Advocate Abroad again.
Douglas Goddard, Alicante City
Oct, 25 2021
Consuelo was always available and very responsive to requests and work needing to be done. She dealt with all work in a very efficient way and provided good solutions to all queries raised by the Authorities.

Consuelo always went that little bit further to ensure all our requirements were completed within the timescales set by the Spanish Authorities. Consuelo was extremely professional and it was a great relief to me to use her services as she removed all the stress and anxiety elements from the process and I was completely confident in her abilities to deliver and would recommend her without hesitation 5 stars service.
Antony P, La Manga Del Mar Menor
Sep, 02 2021
Consuelo was fantastic throughout the process of applying for Spanish residency.

She was always a phone call or a WhatsApp away whenever I had any queries. She went above and beyond to ensure everything went smoothly.

I would highly recommend Consuelo if you are looking for a solicitor
Ruth Lingley
Aug, 10 2021
Very responsive, got back to me promptly, answered all my questions thoroughly.
Anuradha Oogur
Jul, 15 2021
I definitely recommend Consuelo. Very professional, reliable, did the job with trust and confidence.

English speaking and found her very helpful quickly responding to emails, phone calls. No hassle with the work. I really appreciate her work. I will definitely recommend Consuelo as I bought property and her job was done on time without any difficulties.

Best of luck ,I will rate her work to 5 star!
Dinah Sparkes, Spain, Alicante
May, 17 2021
My case was handled very professionally. It was a delicate matter and I knew I was in a safe understanding pair of hands. I would definitely recommend this solicitor , efficient and no problems with the language. Well done great result!
Johanna Count, Benidorm
Mar, 22 2021
Consuelo made everything so straightforward and was always available to answer my questions. She was perfect.
Farideh Askari, El Campello
Mar, 13 2021
Thank you for the opportunity of giving me to provide feedback about Consuelo, who is a talented and capable lawyer who submitted my Residency application on 31st December a day before Brexit as a British citizen.

My residency was granted kindly by Spanish Authorities on 5th February and despite lack of available appointments, she managed to make an appointment for fingerprints on 5th March and now I am waiting for my TIE card .

I'll be always grateful for the kind and professional help of Consuelo for helping me through the process and will definitely recommend her to any client. Many thanks!
Brenda Killigrew, Murcia
Nov, 29 2020
I had a direct phone call from Consuelo , within 24 hours of my first email contact . Was very clear and explained the next stages really well over the telephone.

The continued emails , were consistent and very helpful . Consuelo dealt with all the stages with a efficient process , that has made the application for the Tourist Licence for my property in Spain very easy. Her persistence with getting the Guardia Civil to issue passwords was impressive , for me to upload information to them as required by law in Spain.

Thank you Regards Brenda Killigrew
Johanna Count, Benidorm
Oct, 07 2020
Consuelo explained and took care of everything. She is easy to get in touch with and a pleasure to deal with.

Having to deal with Spanish probate laws and procedures was overwhelming but Consuelo made it so straight forward.
Mark Underhill, Mazarron
Sep, 29 2020
We had a legal problem in Spain and the allocated solicitor, Consuelo, helped us solve the issue. Right from the beginning she was extremely professional and understanding of our needs. It was obvious that she knew exactly what was required.

We felt completely at ease and presented very knowledgeable in respect of legal procedures. I would highly recommend the Advocate Abroad service to anyone in a tight spot in need of legal help.

In terms of what could have been improved, maybe time from initial phone call requesting service to client contact could be a bit quicker, but that's the only thing.
See location of Lawyers on Map
1 Lawyers Offering Services in La Manga del Mar Menor
Established more than
10 years ago
Present in 20
European Countries
Over 30,000 client enquiries
successfully managed
Why choose Advocate Abroad?
Call us Now