Article Published: 04 May, 2011, Updated: 08 Jan, 2023 under Inheritance
How to Calculate Inheritance Tax in Spain?
Factors that determine Spanish inheritance tax
Inheritance tax is payable on all bequests of assets including property, vehicles, cash, shares, bonds as well as on any cash paid out by the maturity of a life insurance policy held by the deceased to the benefit of the beneficiary. The amount payable is the net amount after deductible costs and charges. These would include any debts owed by the deceased at the time of death including a mortgage or tax or social security debts (not included would be debts owed to any of the beneficiaries even though they chose to turn down the bequest); healthcare expenses (dealing with a serious or terminal illness before death for example); funeral costs. The first major difference between Spanish inheritance tax and elsewhere is that in Spain the tax payable is determined with reference to the heir or beneficiary rather than merely considering the size of the estate itself. Whereas in the UK inheritance tax is only payable where the threshold (currently £325,000) is exceeded and there is no need to consider any other factor if the estate is valued below this, in Spain the following factors are important for an Spanish inheritance tax calculator:
tax exemptions
tax rates
the wealth of the beneficiary
the proximity of the relationship between the deceased and the beneficiary
It should be pointed out that no exemption exists for spouses as is the case in other countries. As mentioned earlier a couple would be considered to own half of a property each. Upon the death of one of the spouses the surviving spouse is considered to have inherited the other half - assuming that this is provided for in the will.
Calculating the Tax Rate
The tax rate to apply increases as the amount inherited increases according to the scale published by each autonomous community in Spain or, if such a scale is not published, then according to the scale published by the central government. Obviously regard must be had to where the assets are located to determine which scale is applicable but the following table of the scale published by the central government serves as an example as to how the tax rates function.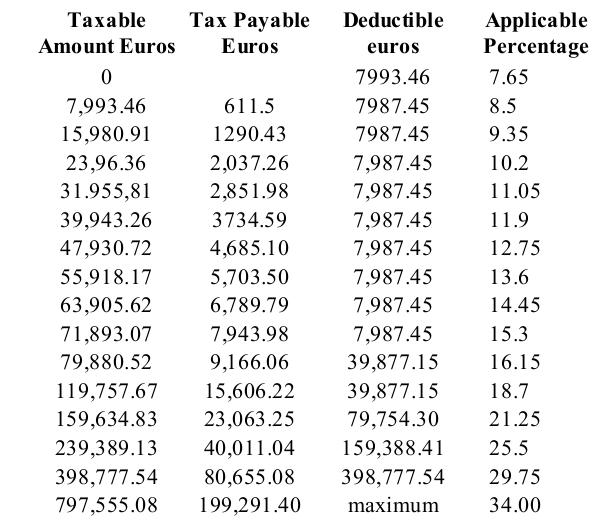 How to Calculate Inheritance Tax in Spain? - Table of tax rates
Example
Where three children each inherit, after deductions and charges, an inheritance valued at €45,000 from a parent, to determine the amount of tax payable by each we would calculate as follows:
Up to €39,943.26 the tax payable is €3734.59
The portion above €39,943.26 (€45,000 – €39,943.26 = €5,056.74) is taxable at 11.9% = €601.75
So, total tax payable by each child is € 3734.59 + € 601.75 = €4,336.34