Tax Decision Appeals in Croatia
Searching for Tax Decision Appeals in Croatia Service? Customer reviews to help you select from the best, most experienced Accountants in Croatia
Established more than
10 years ago
Present in 20
European Countries
Over 30,000 client enquiries
successfully managed
Tax Decision Appeals
This service is available across Croatia
Who Is This Service For?
Failure to look after one's tax affairs can result in serious charges and potentially huge fines. As always, ignorance is no defence before the law – even if understandable due to language difficulties.
The sooner the matter is dealt with by a professional, the better and more likely is the possibility of resolving the issue with the best outcome.
What Does This Service Consist Of?
Initial discussion to determine the specific tax or social security issue at hand
Contact and representations to the tax authority and any other relevant government departments
Accompaniment and representation before tribunals and government departments to effect a successful resolution of the case
Free Support Services Included
When combined with the free and innovative Advocate Abroad support services you can be sure that you are obtaining completely transparent legal services from registered and regulated English-speaking lawyers abroad.These support services include:
Verification of the regulatory status of your professional.
Fees as recommended by the Local Professional Body
Fees specified in advance and legally guaranteed.
Service levels agreed in advance and guaranteed.
All professionals must hold professional indemnity insurance.
Professionals' proficiency in English monitored.
Continuous quality controls and reviews.
Why choose Advocate Abroad?
Our Accountants
Iva, Accountant in Zagreb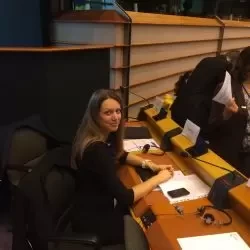 Iva has a unique wealth of experience in the inner workings of the tax administration in Croatia for 13 years. More recently she has worked as a consultant providing expert tax guidance to international businesses and individuals alike. She speaks English fluently.
Call us Now