English-Speaking Translators in Fuengirola
Which Translators in Fuengirola? Customer reviews to help you select from the best, most experienced Translators in Fuengirola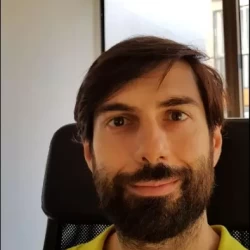 Cases completed 310
Alfonso is a Sworn Translator, certified by the Spanish Ministry of Foreign Affairs to translate official documents. He has a degree in Translation an... [read more]
Alfonso is a Sworn Translator, certified by the Spanish Ministry of Foreign Affairs to translate official documents. He has a degree in Translation and Interpreting, in which he specialised in legal translation and interpreting. He is an experienced in-court Interpreter and is used to tight deadlines. He can also get documents officially translated from - and into - French, Dutch and German.
---
Customer Reviews
Lynn Miles, Barcelona
Jul, 30 2020
Alfonso was so helpful and efficient from start to finish... what more can I say...
I would highly recommend him to anyone.
Thank you once again.
Steve Williamson, Córdoba
Jul, 28 2020
A fantastic service from start to finish!

My documents were translated quickly and delivered to me within 2 days. Will definitely use again. Excellent value for money and much less than elsewhere. Superb.
Amy Satchell , Barcelona
Mar, 20 2020
Amazing service and communication. I needed a document translating from English to Spanish urgently so I contacted Alfonso and he started work on it straight away, it was in the post and delivered to me in Barcelona first thing the next morning as promised.

Can't thank you enough! I would definitely recommend to family and friends.
Jonathan Ruwuya, Barcelona
Feb, 24 2020
Alfonso was quick to respond, with a call, to my request. He understood my request and advised on issues that required clarification.

The value for the service was more affordable in comparison to other translators. I am very happy with how he professionally handled the job and how one can easily approach him.

I am highly satisfied with the service.
Mark McCreary, Estepona
Feb, 19 2020
Alfonso.asked for the work to be sent to him and then he gave me a reasonable quote. He completed the project in two days, me having the originals in hand a day later. I have already recommended his services to two others.
Craig Krom, Barcelona
Sep, 28 2019
Response to my quote was quick and efficient, Alfonso was a great help! Highly recommend.
David Andrews, Jaca
Aug, 29 2019
Very professional, good understanding of the requirement related to the documents, work returned within agreed time frame. Will use in the future. Excellent!
Susan Price, Torre del Mar
Apr, 26 2019
Alfonso was really helpful with the translation of my document.

He provided a very quick, efficient service and when the courier couldn't find my campo house Alfonso phoned me and he arranged for my delivery to be sent to the village bar for collection. Perfect!

I can definitely recommend Alfonso, thank you so much.
Susan Price
John Buckley, Los Alcázares
Apr, 02 2019
A pleasure to deal with, could not have been better....
Peter Charles Robinson, Benidorm
Feb, 22 2019
Friendly human efficiency
Brian Abram, Totana
Oct, 13 2018
Excellent service around super quick and a good price: 5*.
Daniel Elias, New York
Sep, 18 2018
Excellent service, delivered exactly as promised, and at half the cost a different translator had requested for the same project!
Albert Roldan, France
Sep, 04 2018
Alfonso was extremely helpful, particularly since we requested a quick turnaround for the 18 documents needing to be translated from English and French to Spanish.

He was fluent in our phone conversations and email correspondence, he never misunderstood what our requirements were. He was was clear in explaining how this process works and what the price included.

I would highly recommend him to anyone needing these services.
Robert Brownlee, Almeria, Spain
Aug, 08 2018
Everything was as it should be: excellent.

Had to pay by bank transfer and maybe would have liked another means of paying.
See location of Translators on Map
1 Translators Offering Services in Fuengirola
Established more than
10 years ago
Present in 20
European Countries
Over 30,000 client enquiries
successfully managed
Why choose Advocate Abroad?
Call us Now