General Consultation on Immigration in Cyprus
Searching for General Consultation on Immigration in Cyprus Service? Customer reviews to help you select from the best, most experienced Lawyers in Cyprus
Established more than
10 years ago
Present in 20
European Countries
Over 30,000 client enquiries
successfully managed
General Consultation on Immigration
Available in the following locations: Nicosia
* If your local town is not listed, a lawyer from our nearest office will be happy to assist you.
Who Is This Service For?
If you are considering relocating to another country, one of the major hurdles to overcome – unsurprisingly perhaps – is obtaining the right to live there, or more difficult still, the right to live AND work in the country.
The principal problem usually revolves around which, if any, Visa you might qualify for. Furthermore, there are a myriad of rules and regulations and, unfortunately for applicants and immigration lawyers alike, these regulations are often subject to change with little or no notice.
Benefits
Money, time & effort: speaking with a local immigration lawyer will allow you to understand your best route to obtaining a residency/right to work visa in the country you wish to locate to. This will save you time and effort trying to make sense of the hundreds of complex rules, as well as helping you to avoid embarking on a process for which there is little chance of a successful outcome (whereas another might be much more likely to succeed).
Cost
The cost of a consultation depends on the lawyer you engage, though typically a consultation will cost around €40 - €60. This fee may be cancelled in the case that you contract the lawyer's services to process your application for a Visa.
What Does This Service Consist Of?
A discussion with an experienced, English-speaking immigration lawyer on your options to relocate to your chosen country
Option of continued assistance from the lawyer on making the application, including general advice, assistance with the process, completing application forms, interviews, collecting residency cards once you arrive in the country etc
Free Support Services Included
When combined with the free and innovative Advocate Abroad support services you can be sure that you are obtaining completely transparent legal services from registered and regulated English-speaking lawyers abroad.These support services include:
Verification of the regulatory status of your professional.
Fees as recommended by the Local Professional Body
Fees specified in advance and legally guaranteed.
Service levels agreed in advance and guaranteed.
All professionals must hold professional indemnity insurance.
Professionals' proficiency in English monitored.
Continuous quality controls and reviews.
Why choose Advocate Abroad?
Our Lawyers
Constantinos, Lawyer in Nicosia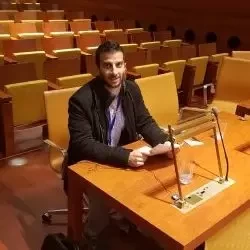 Cases completed 16
Constantinos graduated from the Democritus University of Thrace (DUTH) Greece and was admitted to the Cyprus Bar in 2013. He also completed an LLM deg... Read More
Constantinos graduated from the Democritus University of Thrace (DUTH) Greece and was admitted to the Cyprus Bar in 2013. He also completed an LLM degree in International Commercial Law in Bournemouth University and holds a Copyrights Diploma from Harvard Law School USA. Constantinos assists foreign clients in Civil and Criminal Law matters and speaks English fluently.
---
Customer Reviews
Natasha Petrovic
Jul, 26 2022
Constantinos was professional and helpful. He made the process of buying property in Cyprus much easier for us.

We would definitely recommend Constantinos and his assistance to others.
Call us Now