Contested Will in Cyprus
Searching for Contested Will in Cyprus Service? Customer reviews to help you select from the best, most experienced Lawyers in Cyprus
Established more than
10 years ago
Present in 20
European Countries
Over 30,000 client enquiries
successfully managed
Contested Will
Available in the following locations: Nicosia
* If your local town is not listed, a lawyer from our nearest office will be happy to assist you.
Who Is This Service For?
Contesting a Will can be fraught with difficulty - not to mention emotion - given that an individual may likely be asserting a right to inherit against another family member. The ability to contest a Will depends very much on the circumstances of the case and the applicable law.
This becomes more complex once again when considered in an international context. There may be conflicting jurisprudence as to which laws apply, never mind what those laws actually state.
Often the grounds for varying a Will would relate to undue influence on the testator by a beneficiary named in the Will though in European jurisdictions, a child of the deceased may have a right to a portion of the estate in a system known as forced heirs, and any failure to inherit the minimum portion assigned by law, could give rise to a right to contest the Will.
 what Does This Service Consist Of?
Initial consultation with a specialist lawyer to determine your rights under national and/or international law to contest a Will
Communication with other interested parties and relevant authorities on your behalf to have the terms of the Will changed
Representation in legal proceedings where required to ensure a variation of the terms of the Will and the registration of rightful interests in the estate
Free Support Services Included
When combined with the free and innovative Advocate Abroad support services you can be sure that you are obtaining completely transparent legal services from registered and regulated English-speaking lawyers abroad.These support services include:
Verification of the regulatory status of your professional.
Fees as recommended by the Local Professional Body
Fees specified in advance and legally guaranteed.
Service levels agreed in advance and guaranteed.
All professionals must hold professional indemnity insurance.
Professionals' proficiency in English monitored.
Continuous quality controls and reviews.
Why choose Advocate Abroad?
Our Lawyers
Constantinos, Lawyer in Nicosia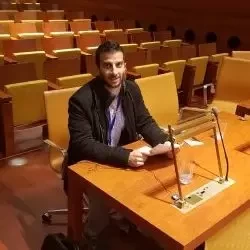 Cases completed 16
Constantinos graduated from the Democritus University of Thrace (DUTH) Greece and was admitted to the Cyprus Bar in 2013. He also completed an LLM deg... Read More
Constantinos graduated from the Democritus University of Thrace (DUTH) Greece and was admitted to the Cyprus Bar in 2013. He also completed an LLM degree in International Commercial Law in Bournemouth University and holds a Copyrights Diploma from Harvard Law School USA. Constantinos assists foreign clients in Civil and Criminal Law matters and speaks English fluently.
---
Customer Reviews
Natasha Petrovic
Jul, 26 2022
Constantinos was professional and helpful. He made the process of buying property in Cyprus much easier for us.

We would definitely recommend Constantinos and his assistance to others.
Call us Now