Entrepreneur Visa in Cyprus
Searching for Entrepreneur Visa in Cyprus Service? Customer reviews to help you select from the best, most experienced Lawyers in Cyprus
Established more than
10 years ago
Present in 20
European Countries
Over 30,000 client enquiries
successfully managed
Entrepreneur Visa
Available in the following locations: Nicosia
* If your local town is not listed, a lawyer from our nearest office will be happy to assist you.
Who Is This Service For?
If you have an existing business - or have a life-long desire to 'go out on your own' an option exists in Cypriot law to transfer your residency to the sunny climes of the mediterranean island.
The country is interested in attracting investors and entrepreneurs to who have innovative business ideas to locate on the island and benefit from the trading opportunities presented by its location in the European Union block of countries.
The requirement to be innovative has some teeth, for example, 10% of the the business' operating costs must be dedicated to 'research and development' - this can be evidenced either by an external auditor if the business is already in operation or, in the business plan if the business does not yet exist.
Our lawyers can assist with building a suitable business plan.
What Does This Service Consist Of?
An initial discussion with lawyers highly experienced in making successful applications for residency visas based on an innovative business start-up
A business plan or application for a visa by innovative business start-up is prepared, and all other documents required for a successful application are assembled under the guidance of your lawyer
Assistance and advice on the documentation required and completing the forms to ensure the application(s) is/are approved
Assistance upon arrival with obtaining foreign residency cards
Employment law services to ensure that employee contracts and conditions are dealt with in a manner consistent with Cypriot health and safety and employment law
Ongoing tax, accounting and payroll services to help with the compliance aspects of your business are also available upon request
Free Support Services Included
When combined with the free and innovative Advocate Abroad support services you can be sure that you are obtaining completely transparent legal services from registered and regulated English-speaking lawyers abroad.These support services include:
Verification of the regulatory status of your professional.
Fees as recommended by the Local Professional Body
Fees specified in advance and legally guaranteed.
Service levels agreed in advance and guaranteed.
All professionals must hold professional indemnity insurance.
Professionals' proficiency in English monitored.
Continuous quality controls and reviews.
Why choose Advocate Abroad?
Our Lawyers
Constantinos, Lawyer in Nicosia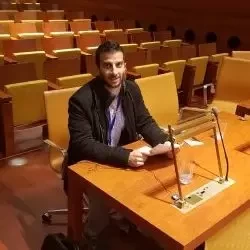 Cases completed 16
Constantinos graduated from the Democritus University of Thrace (DUTH) Greece and was admitted to the Cyprus Bar in 2013. He also completed an LLM deg... Read More
Constantinos graduated from the Democritus University of Thrace (DUTH) Greece and was admitted to the Cyprus Bar in 2013. He also completed an LLM degree in International Commercial Law in Bournemouth University and holds a Copyrights Diploma from Harvard Law School USA. Constantinos assists foreign clients in Civil and Criminal Law matters and speaks English fluently.
---
Customer Reviews
Natasha Petrovic
Jul, 26 2022
Constantinos was professional and helpful. He made the process of buying property in Cyprus much easier for us.

We would definitely recommend Constantinos and his assistance to others.
Call us Now