English-Speaking Lawyers in Antalya
Which Lawyers in Antalya? Customer reviews to help you select from the best, most experienced Lawyers in Antalya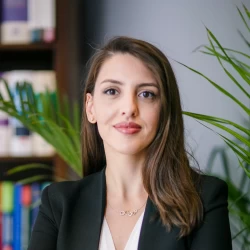 Cases completed 55
Dilruba graduated from the Gazi University, Faculty of Law and for several years has been working at one of the top law firms of Ankara specialising o... [read more]
Dilruba graduated from the Gazi University, Faculty of Law and for several years has been working at one of the top law firms of Ankara specialising on cases regarding insurance law, corporate law, labour law, enforcement law and international private law that embodies different departments for each field of law. She is fluent in English and German as well as her native Turkish
---
Customer Reviews
Winnie Njoroge
Nov, 11 2022
Dilruba was very helpful to me, she is very professional, explained to me everything very politely and calmly, I get my document in a very short time, am very grateful to her and I recommend her to anyone who needs agent help abroad.
Stephen M. Sawyer
Oct, 11 2022
My lawyer was very helpful and answered all my questions and went to great lengths to assist me.

I would recommend her to anyone.
Michael Cathie
Sep, 08 2022
I experienced nothing but the highest levels of professionalism and responsiveness from Dilruba.

She was always extremely knowledgeable, calm and very responsive. She has excellent communication skills and get things done quickly. I'm very grateful for all the help she gave me and would recommend her very highly.
Roger Senekal, Spain
Oct, 25 2021
Dilruba was very helpful and knowledgeable at all times.
Ersa Sara, Ankara
Oct, 04 2021
Dilruba was excellent and very easy to talk to. She was understanding, professional and responsive. If I will need a lawyer in the future I will definitely chose her and I will recommend her to my friends and family.
Farid Abbasi, Ankara
Mar, 19 2021
I was so pleased to have Madam Dilruba as my lawyer for some time and appreciate what she did for me.
Sam Rifai, Antalya
Nov, 16 2020
Caring, well-prepared, very responsive. Dilruba is a dedicated professional and was a delight to work with.
Dan Carmel, Israel
Sep, 15 2020
Most understanding caring and professional. Hope to get soon the remaining documents that I need.
Amy Nolledo, Ankara
Sep, 02 2020
Dilruba is bilingual and spoke English perfectly. I would happily recommend her to friends.
Agata Wilczynska, Prague, Czech Republick
Jun, 18 2020
Last thing that I wanted was to have to ask a lawyer for help. For me it was additionally stressful  due to location / culture/ language difference.

However, Dilruba helped me and supported me all way during contact with my opponent. I can recommended her 100%!
Elena Slater
Jan, 03 2023
Fast response, excellent advice
See location of Lawyers on Map
1 Lawyers Offering Services in Antalya
Established more than
10 years ago
Present in 20
European Countries
Over 30,000 client enquiries
successfully managed
Why choose Advocate Abroad?
Call us Now