English-Speaking Accountants in Italy
Which Accountants in Italy? Customer reviews to help you select from the best, most experienced Accountants in Italy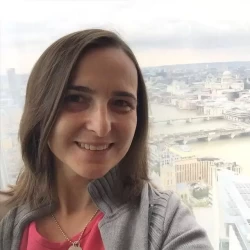 Cases completed 49
ilaria began providing accounting services in 1999 following an excellent academic career that included two semesters at the European Business School ... [read more]
ilaria began providing accounting services in 1999 following an excellent academic career that included two semesters at the European Business School in London and one summer session at the Berkeley University of California. She is a certified accountant both in Italy and in the UK (ACCA). The principle services that ilaria provides, includes tax accounting, bookkeeping, real estate taxation, business legal consultancy, auditing and company evaluations/due diligence.
---
Customer Reviews
Piotr Nagalski
Oct, 11 2022
Very professional and knowledgeable. Came well-prepared to the meeting.

I am extremely satisfied.
Norman
Aug, 01 2022
Very helpful, provided detailed explanations for all the questions I had
Clinton James
Jul, 20 2022
Ilaria took the time to discuss my options in detail, as well as recommending ones that I was not aware of. She is very knowledgeable in this area and extremely helpful.
Enrico Frattaroli
May, 25 2022
Dealt with my query very professionally and efficiently. I would have no problem recommending Ilaria.
Kelly Brigham
May, 14 2022
Ilaria was always very thorough and provided great solutions. She took the time to explain everything and talk me through my options. This was very helpful for someome that just moved to a new country and didn't speak Italian.
Ana Sancho Medina, Italy
Nov, 04 2021
Ilaria provided clear answers to my questions, demonstrating a good knowledge of the subject. She was extremely approachable and responsive.

I would use her service again without doubt.
Axelle Van Huffel, Varese
Oct, 05 2021
Quick responsiveness, good understanding of questions and every time helpful feedback.
Nini Marceca, Rome
Apr, 15 2021
She was excellent in all of these situations. She's explained everything and always responded very quickly to me. She was so helpful and very professional.
Brendan McDonald, Italy
Jan, 12 2021
Ilaria was the consummate professional. Her advice and explanations were clear and easy to understand. I have no hesitation in recommending Illaria to anyone looking for accounting and tax advice in Italy.
Clare O Callaghan, Ireland
Jan, 11 2021
Ilaria provided great assistance. She was really patient and helpful. She is still helping me see through a process that has been dragged out completely due to Covid.
Barry Kelmis, Padova, Italy
Aug, 07 2020
Ilaria was always there when I needed her. Responded quickly to emails, phone calls and questions.

Completely took all my USA documents and USA tax forms and completed my Italian tax forms. Submitted them well before the allotted time.

Very Happy with Ilaria and will look forward to using her services again next year.
Eugene Mitton, Italy
Jun, 02 2020
Ilaria is an excellent accountant and she made starting a business in Italy very easy for us. She helped us navigate the complexities of Italian company law, and she proactively gets in touch with us with suggestions, advice on new government rules or support, and other advice that we need. I highly recommend using Ilaria's services.
Greg Turner, San Remo
Feb, 15 2019
Ilaria was extremely knowledgeable and helpful. She was very prompt in replying to me or calling me.

I can't speak Italian correctly and she could then speak English to me as if it's her 1st language.

I have spent a long time looking for an Italian/English speaking accountant that is experienced, trustworthy and makes you feel welcome to contact her. I appreciate making contact with her and will certainly use her for all things related in the future.

Nothing to improve. Top service and I will use your business again each time. Thank you
Lara, Turin
Jan, 04 2019
My contact in Italy, Ilaria, was SO helpful and responsive. 100%recommend
Daniel Mannion, Italy
Nov, 28 2018
Dedicated help received in a very responsive manner. Very happy with all the help I was given!
See location of Accountants on Map
1 Accountants Offering Services in Italy
Established more than
10 years ago
Present in 20
European Countries
Over 30,000 client enquiries
successfully managed
Why choose Advocate Abroad?
Call us Now