English-Speaking Lawyers in Cordoba
Which Lawyers in Cordoba? Customer reviews to help you select from the best, most experienced Lawyers in Cordoba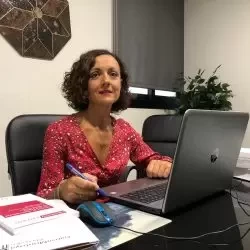 Cases completed 69
Angela has over 20 years experience as a practising lawyer in Spain. She has assisted English-speaking clients throughout her career in property matte... [read more]
Angela has over 20 years experience as a practising lawyer in Spain. She has assisted English-speaking clients throughout her career in property matters, business law, immigration as we as the areas that so often touch on foreign residents' lives such as family law and inheritance matters.
---
Customer Reviews
Barbara Taylor
Sep, 27 2022
As well as being very professional, she was also friendly and helpful.
Jean Lai Chan, Mijas Pueblo
Jul, 31 2022
Angela was helpful and caring right from the start. My case was with the British Consulate in Malaga and Angela didn't flinch knowing how difficult if not impossible to deal with a government organisation.

Angela had supported me mentally as well because of the way I was being treated, and I wasn't mentally capable of making any decision for myself. She guided me to have the confidence to face the challenge ahead, and we finished the case with the compensation and result that I wanted.

I will not hesitate to recommend Angela's service to anyone. Thank you Angela, I am grateful for your help and support. Kind regard, Jean
Nigel Lella
Jan, 19 2022
Very helpful, professional and value for money.

Angela was very helpful and very quick to come back with any questions I had.
Samantha Baycock, Fuengirola
Nov, 24 2021
Angela always replied immediately and her clear advice and guidance was so reassuring.

Fantastic customer service when I really needed it.
Brian Thomas Clapham, Cordoba
Nov, 22 2021
Angela is extremely proficient with excellent English, she responds to questions within an hour.

Easily the best lawyer I've ever dealt with both here in Spain & UK.

A very charming lady, thank you Angela!
Leah N
Oct, 27 2021
Angela was amazing with us. We will recommend her to all of our friends and family and also would not hesitate in using her again.

Thank you so much once again Angela. [View all G o o g l e Reviews]
Marcus Stephan
Jul, 05 2021
A highly professional and pragmatic response. In our particular case a range of outcomes was possible and it was refreshing to deal with someone who not only had an in-depth understanding of the law as it applied, but was also able to advise looking at the wider picture and context.

Communication was excellent and I believe that the service provided represented good value for money.

We will certainly continue to ask Angela to represent and act for us in all future legal matters.
Christel Suy, Malaga
Apr, 30 2021
Angela is very professional and always available to assist us. Especially when we couldn't come to Spain due to Covid she sorted everything in our name. We are extremely satisfied!
Michael Bates, Fuengirola
Mar, 31 2021
Angela's English is perfect. She did an amazing job and kept me informed all though the process.

I will be recommending her to all my friends both in Spain and those in the UK with interests in Spain. I was happy with the end cost.
I cant praise her enough. Thank you Angela
Julie Heenan, Cordoba
Mar, 08 2021
Angela was extremely professional in all her communication with us, and on behalf of us. She had the ability to pre-empt our concerns and was extremely knowledgeable about her subject, which in turn provided us with security that we could trust her and she was acting in our best interest and within the law.
She also showed us kindness and empathy, which we so appreciated.
We were surprised at the cost for her services, we expected so much more having heard stories of other British people seeking Spanish residency and what they were being charged.
We have no hesitation in recommending Angela, and if ever I needed the services of a Lawyer in the future I would not hesitate to contact her. If she wasn't able to help me herself, I have full confidence that she would help me find the person I needed.
Robert Atkins, Spain
Feb, 18 2021
Very helpful and professional. Excellent English!
Joanna Derrick, Cordoba
Feb, 18 2021
Angela was very prompt and very clear in all communications. Throughout our residency process the rules kept changing and she stayed on top of what was required for us. She went above and beyond in helping us, she even helped when we ran into obstacles with exchanging our driving licenses. I have already recommended her to three friends who are now working with her, and I wouldn't hesitate to recommend her to more!
Rick Moses, Almodovar del Rio
Feb, 18 2021
Angela was always there to help and always answered my questions. Everything went smoothly despite the current climate. I would not hesitate to use her services again or to recommend her. Thank you.
Frederik Otte, Málaga
Sep, 25 2020
Very satisfied with the service provided. Angela is bilingual and speaks English perfectly.
Andrew Hales, Fuengirola
Oct, 23 2019
We dealt with Angela, and had a superb service - she was efficient, clear, timely and exceptionally helpful. We would recommend this respectable Solicitor who has excellent English.

Trustworthiness is so important, and step by step help was very much appreciated. Thank you Angela of myAdvocate Fuengirola. [View all G o o g l e Reviews]
See location of Lawyers on Map
1 Lawyers Offering Services in Cordoba
Established more than
10 years ago
Present in 20
European Countries
Over 30,000 client enquiries
successfully managed
Why choose Advocate Abroad?
Call us Now