English-Speaking Lawyers in Corfu
Which Lawyers in Corfu? Customer reviews to help you select from the best, most experienced Lawyers in Corfu
Maria, Lawyer in Corfu...
Maria graduated with merit from Greece's most prestigious Law school of Athens (EKPA), with additional studies outside Greece. She specialises in Civil Law, Property Law, Visa and Immigration Law. and has for years been assisting clients in these areas in one of the languages that she speaks, namely Greek, English, Russian and German.
We are very satisfied with Maria's services. She did not hesitate to help us even when we were fighting against time, she always looked for solutions and responded promptly to our requests. We recommend her from the bottom of our hearts, and we thank her again for everything she has done for us!
Christine Meyer K.
01 Sep 2023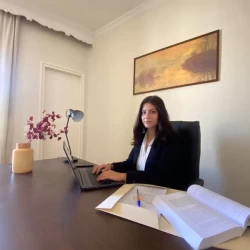 55 completed cases
Speaks languages
Established more than
10 years ago
Present in 20
European Countries
Over 30,000 client enquiries
successfully managed
Why choose Advocate Abroad?