English-Speaking Lawyers in Corfu
Which Lawyers in Corfu? Customer reviews to help you select from the best, most experienced Lawyers in Corfu
Maria, Lawyer in Corfu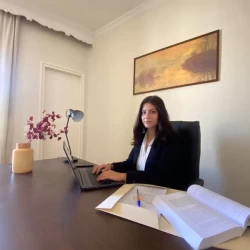 Cases completed 34
Maria graduated with merit from Greece's most prestigious Law school of Athens (EKPA), with additional studies outside Greece. She specialises in Civ... Read More
Maria graduated with merit from Greece's most prestigious Law school of Athens (EKPA), with additional studies outside Greece. She specialises in Civil Law, Property Law, Visa and Immigration Law. and has for years been assisting clients in these areas in one of the languages that she speaks, namely Greek, English, Russian and German.
---
Customer Reviews
Laziza
Sep, 20 2022
Maria was very responsive and understanding. She answered all of my questions in great detail.
Steve Murphy
Aug, 26 2022
Maria responded immediately to my needs and was able to provide instant solutions. Her knowledge of English is faultless and her explanations clear and accurate. She is approachable and answers any query or concern without delay. Her professionalism is perfect.

I would not hesitate in recommending Maria to anyone since she provides an outstanding service!
Sarah King
Aug, 03 2022
From the first phone call, Maria put my mind at ease and provided clear steps and options to resolve my immigration issue.

Her advice was comprehensive and very good value. I feel she went above and beyond in empathising with and being adaptable to my changing circumstances. Maria anticipated things that might concern me (like overstaying my 90 days) and told me clearly the consequences and ways we could avoid them.

She has a lot of initiative, knowledge, and local connections with immigration and tax services. She always responds quickly.

I wholeheartedly recommend Maria to anyone who needs her help.
Ryan Limbo
Jul, 30 2022
Maria was so very helpful to me, she updated me every single step she made, I'm gonna recommend her to my friends 😉😉
Lynda Torres
Nov, 28 2022
Very communicative throughout the process. Professional and friendly.

Did an amazing job at working through our project in a timely manner.
Juan Caballero
Jan, 12 2023
Very responsive and attentive to detail, Fees seem reasonable and fair.
yazzan Jamil Choukair
Feb, 22 2023
The professional was very helpful and always replied quickly.
See location of Lawyers on Map
1 Lawyers Offering Services in Corfu
Established more than
10 years ago
Present in 20
European Countries
Over 30,000 client enquiries
successfully managed
Why choose Advocate Abroad?
Call us Now