English-Speaking Lawyers in Los Alcazares
Which Lawyers in Los Alcazares? Customer reviews to help you select from the best, most experienced Lawyers in Los Alcazares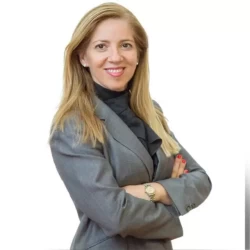 Cases completed 118
Maria-Jose read Law at the University of Alicante, and in 2004 became a member of The Law Society of Murcia. In 2005 she established her own law firm ... [read more]
Maria-Jose read Law at the University of Alicante, and in 2004 became a member of The Law Society of Murcia. In 2005 she established her own law firm with offices in the centre of Murcia and maintains offices both there and in Valencia. Maria-Jose acts as Secretary of the Civil Section in the Law Society of Murcia and is a leading member of the legal community. She assists clients with property acquisitions and disposals as well as a full range of civil law matters such as inheritances and family law matters. She speaks English fluently.
---
Customer Reviews
Natalie Stephens
Oct, 24 2022
Very responsive and reached out to me via phone call to set up a consultation. Answered all my questions and is willing to help.
Ali
Jul, 25 2022
This was quite the experience that an expatriate who does not speak the language needs – which made me feel less of a stranger and more like at home.

Maria explained the process and procedure with clarity, and she always kept me well-informed till I got through this eventually.

Thank you, Maria, for the great work and I wish you best of luck and success in your professional endeavors.
Jett Smith
Jul, 06 2022
Firstly, I was pleasantly surprised how quickly I was contacted and given an appointment. In our very first meeting, it was apparent that Maria is not only knowledgeable and professional, but she is obviously a very caring person.

For the first time in several months of dealing with my Residencia problem, I felt relaxed and positive that she would be successful. She kept me informed on every issue and what to expect. I cannot properly express the relief I had when she informed me that my application was approved, and stayed in contact right up to the day I received my new TIE card.

Thank you for connecting me with Maria. You are very lucky to have her on your team.
Victor
Jun, 16 2022
Maria gave a comprehensive breakdown of what her service entailed, including elaborating on other alternatives.

She was quick on delivery and communicated clearly. Overall, this was a satisfactory service.
Agata Pawlik
Jun, 09 2022
Thanks to Maria-Jose's professionalism and very quick reaction, I was able to make very efficiently my arrangements. It was also a pleasure to meet her - a very kind and helpful person.

Her English proficiency impeccable.

Thank you again! Appreciate all the help.

Agata
Barry French
Apr, 28 2022
Maria was fantastic. So glad I found her!

Always there when I needed her, she always called back afterwards, if she was busy with another client.
Malcolm Shaw
Mar, 07 2022
Excellent service, very quick to explain all procedures and possible outcomes. Once Maria began she was extremely professional and thorough with clear communication at every stage.

The problem was dealt with in a very short time, I could not ask for better or more professional service.
Eamonn Kiely
Feb, 22 2022
Hello. She was very professional and if I emailed she contacted me back immediately.

She was very helpful and I will use her services again in the future.
Elzbieta Brajer, Murcia City
Nov, 19 2021
Maria is very professional and very helpful. She has helped me with problems caused by another lawyer and. when I confused the time of the appointment, she was very understanding and accommodating in making another appointment.

I would definitely recommend her services to anyone.
marina hall, Valencia City
Nov, 15 2021
Very helpful and responsive.

Would highly recomend to others looking to secure a visa in Spain.
Paula Mcgaughey
Sep, 14 2021
Maria was amazing she explained everything and kept us up to date she is a very professional lady and I will use her again and recommend her
Norena Von Hartitzsch, Murcia
Dec, 15 2020
Maria was extremely quick at responding, patient and understanding of my many questions, gave clear easy to understand replies, and went out of her way to help me.

I eventually decided not to proceed with a court case but will definitely be contacting María in the future about other legal issues.
Paul Dowler, Murcia
Mar, 25 2020
I cannot speak highly enough of the professional level of service afforded to me by Maria-Jose.
The speed of reply to enquiries was excellent as was the advice.
I will, without question utilise the services provided by Maria once again, should I have the requirement for legal assistance within Spain.
Thank you Maria!
Patricia Wheatley , Murcia
Feb, 03 2020
Maria was very helpful and sorted my problem within a week, I was very pleased with how much information I was given and the very quick replies to any questions I had.
Michelle, Murcia
Nov, 27 2019
I'm very happy with the way Maria dealt with everything,I would definitely contact Maria if I ever needed her services again 😃
See location of Lawyers on Map
1 Lawyers Offering Services in Los Alcazares
Established more than
10 years ago
Present in 20
European Countries
Over 30,000 client enquiries
successfully managed
Why choose Advocate Abroad?
Call us Now