Barcelona is a magnificent city which, as a result of its climate, culture, food, architecture, location by the sea - not to mention being within 90 minutes drive of snow resorts in the Pyrenees, has attracted many foreign citizens to make it their home.
However, as a lawyer who helps foreign citizens to buy property in Barcelona, I am more aware than most that, just as with any other real estate market, it is vital to take certain precautions if you are considering buying property in Barcelona.
Often, foreign citizens who decide to buy property in Barcelona, are either already living here, or previously did so - indeed, many people elect to rent property in Barcelona before they choose to own property here. This of course, has the benefit of allowing the person to become familiar with Barcelona before investing in the local property market.
When you are thinking about investing in property in another country, it is important to be aware that there can be limitations and even negative aspects of certain property types and locations, which may not exist in your own country. Assuming that the same laws apply is an easy trap to fall into, and should be guarded against. Make sure to read our overall guide to buying property in Spain before you make an investment.
For example, an apartment overlooking a picturesque square in central Barcelona may seem delightful until you are woken-up regularly at 4am by the noise created by people wanting to party on all night long, quite often tourists. Clear to some, not so obvious to others, and certainly not mentioned in the Real Estate Agent's listing.
In this article, we will try to provide some useful information - not just on the legal requirements for buying property in Barcelona - but also the financial and practical steps you need to take when making such an important investment.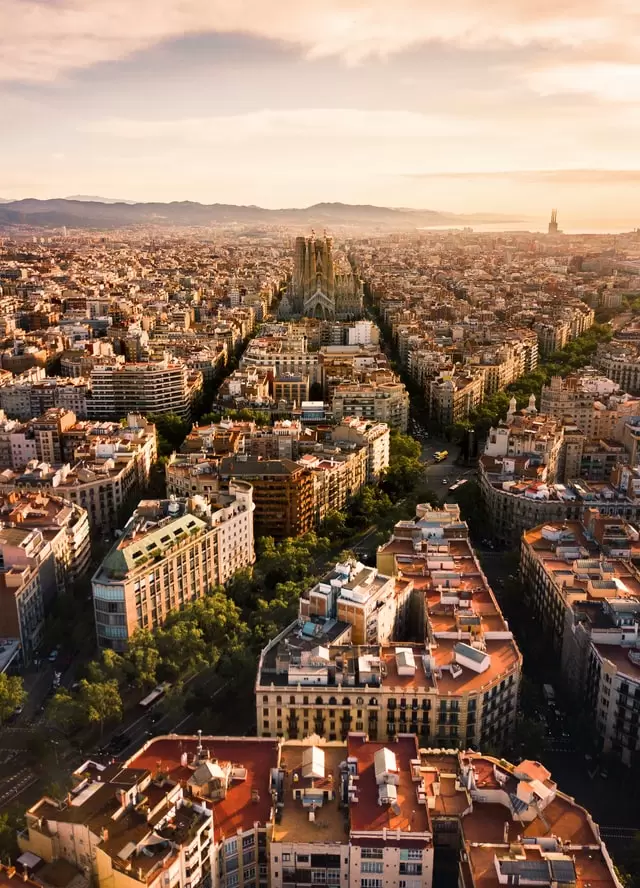 1. Can foreigners buy property in barcelona?
The first hurdle to overcome, perhaps, is the most practical of them all - are you able to buy property in Barcelona if you are not a resident here. Currently, there are no obstacles to prevent a foreigner from purchasing a property in Barcelona.
Another question is whether a foreigner buying property can remain in Barcelona indefinitely. Any EU citizen may live indefinitely in Barcelona, while anyone else will require a visa if they plan to stay in Spain more than 90 days in any 180-day period, as per the Schengen rules.
If you are in a long-term relationship with an EU/Spanish national, and fulfill the legal requirements, then you may register this relationship with the Spanish immigration authorities and be permitted to remain here. Likewise, if you are married to an EU or Spanish citizen.
Another, more expensive option, currently available, would be to avail of the golden visa Spain programme, which allows participants investing more than €500,000 in property in Spain, may live and work here.
An alternative is the visa option that allows those with sufficient income to live here in Spain, without the right to work. So, normally the income would come from the rental market in another country or a pension or company dividends. Known as the non-lucrative visa in Spain, it is particularly relevant to British citizens planning a retirement in Spain.
Finally, the new digital nomad visa provides options for those foreign buyers who, as non-EU citizens, wish to live in Spain and buy property in Barcelona.
2. The barcelona property market
Given that it is one of the most densely populated cities in the world, it is not surprising that most seek to buy a flat in Barcelona. Houses do, of course, exist in Barcelona, but they tend to be further from the centre and outside the reach of most budgets, being in the multi-million price bracket.
So, most people who are buying property in Barcelona will be buying a flat in Barcelona. Apartments can be old or new, with views over the sea, the hills or nothing more than the internal patio or an identical apartment across the street.
Below is a list of the evolution of average price paid per square metre, in Barcelona, between 2013 and 2022 as per the Barcelona Town Hall. This list of average prices is divided into all of the Barcelona city districts: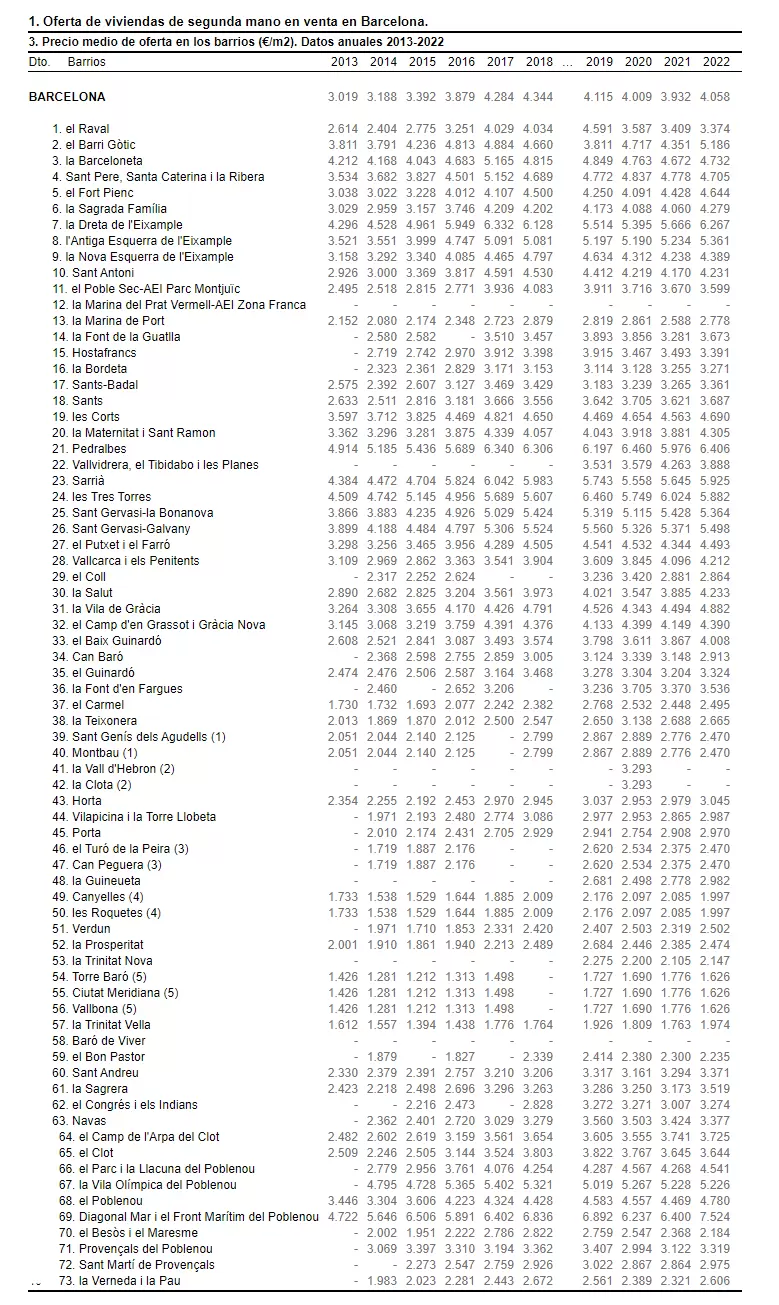 Normally, the purchase price will increase if the apartment has a private outdoor terrace, especially if that is not overlooked (almost impossible) and has pleasant views. In Barcelona the most expensive will have sea views, though mountain views are also usually highlighted in the marketing blurb. Also sought after are views over a nice square.
However, as previously mentioned, you will also need to factor in elements such as anti-social noise pollution as well as traffic noise and noise/odours from nearby eating establishments and bars or restaurants.
A premium price may also attach to areas of the city considered to have good local schools and/or amenities, such as Sarría or Pedralbes.
Of course, it is worth restating that these are average house prices in each district, and you will need to factor in variables such as large outdoor terrace, nice views, high/low traffic noise etc in order to determine whether the asking price is appropriate are not.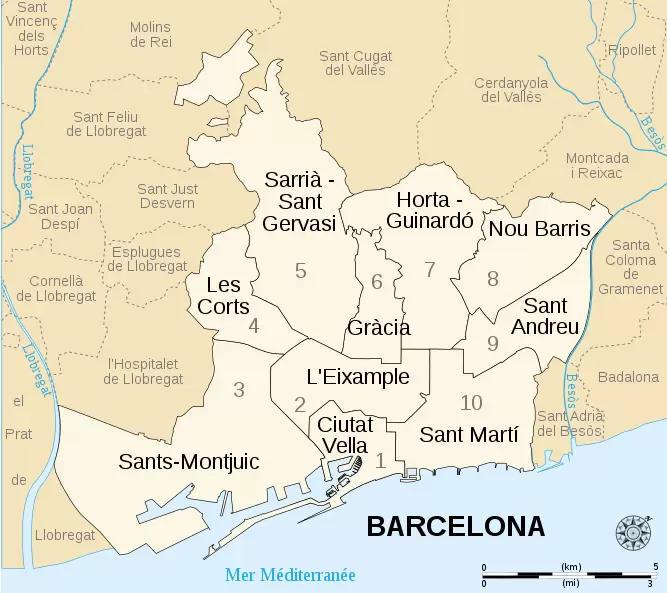 3. Barcelona city districts
Ciutat Vella
As stated, most who are interested in buying property in Barcelona will be quite knowledgeable about the different Barcelona districts and what they have to offer. Still, for those who are new to Barcelona, below is a very brief synopsis of the different areas and will put some of the prices per square metre listed above, into context.
The centre of Barcelona comprises the area occupied by the original walled city - also known as Ciutat Vella (Catalan for Old Town) and today can be said to comprise of the districts of the Barrio Gotico, El Born and El Raval. as well as La Barceloneta, which is the area between the centre and the beach.
The benefits of buying a property here is that you are right in ground-zero and in walking distance of many of the cities attractions, including bars, eateries and nightlife.
As against that, you are likely live so close to your neighbout that you might be able to literally touch your neighbour if you stretch out of a window. Also, the noise levels can be extreme, despite regulations imposed by the city council prohibiting bars from serving customers on terraces outdoors after 12pm.
Typical price per square metre ranges between €3,370 in the less savoury parts of El Raval to just over €5,000 for the nicest parts of El Gotico or indeed La Barceloneta with views to the sea.
L'Eixample
Surrounding the centre of the old town, is the Eixample district, originally built in the 18th century, with large, impressive town houses. It is often referred to as the 'new left', the 'old left' or the 'right' Eixample, depending on which part you are referring to, and stretches from Sagrada Familia to Sants, separated from the city centre by the Plaça de Catalunya and the Gran Via.
These homes were originally destined for the cities wealthy merchants, seeking to distance themselves from the ever present dangers of filth and disease prevalent in the old city.
These huge homes have long since been converted into individual apartments, though apartments with their original features are not uncommon. They offer somewhat more modern homes, with perhaps more space, though those located beside larger road arteries suffer from significant noise issues. You will also find modernist buildings in this area, by renowned architets such as Lluís Domènech i Montaner, Josep Puig i Cadafalch and, of course, the ubiquitous Antoni Gaudí.
Properties in this zone take into account proximity to the city centre, without the downsides of living in the Old Town. Prices range from approx. €4,500 - €6500 per square metre.
Grácia
Other districts of note in Barcelona include Grácia, originally built to house the workers who built the Eixample district. The buildings in Gràcia tend to be less high-rise than the majority of the city, yet it is still relatively close to the city centre.
It has many squares as well as bars and restaurants, making for a lively nightlife. Many small designers have workshops in the area where they showcase their products and sell their wares. Car parking is complicated in this area, though it is well serviced by public transport.
Some prefer the areas adjacent to Gràcia itself, to enjoy the benefits of having a lively area with bars and restaurants as well as quirky, unique shops, without having to suffer late night noise.
Property prices per square metre vary between €4000 - €5000.
Les Corts
Les Corts is one of the ten districts of Barcelona, ​​consisting of the neighborhoods of Les Corts, Pedralbes, and La Maternitat i Sant Ramon. It is one of the most expensive areas of Barcelona, not just because of the elevated prices per square metre, but also because in some areas, the properties themselves are sizeable, with private gardens and swimming pools.
The district has many upmarket shopping areas and boulevards, as well as 25 private schools and a number of private hospitals and clinics. Barcelona Football Club stadium is to be found in the area.
The three districts that comprise Les Corts represent three different classes of living, with Pedralbes being an exclusive and expensive area, while Les Corts would be a upper-middle class area, La Maternitat somewhat less so. In none of these areas would you find many examples of Barcelona's famed Gaudi inspired architecture, though it is a sought-after neigbourhood that families in particular are keen to settle-down in.
Property prices per square metre vary between €4400 - €6500.
Sants-Montjuic
Representing both mountain and sea, this area is to be found south of the Old Town/L'Eixample areas. It is a relatively large district consisting of the Montjuic hills with walking trails that last for hours, and dotted with museums and various tourist attractions such as Pueblo Español, the depiction of the various styles of architecture to be found in the different regions of Spain.
At the foot of Montjuic you will find the Plaza España with its Bull Ring since converted to shopping centre with roof-top restaurants. This is home to the Royal Palace and the Mobile International Congress is held in it's huge convention centres.
Closer to Sants you will find a more urban area with plenty of night-life and, of course, the eponymous Sants train station, the biggest in Barcelona.
This area is popular with regular commuters and families, given its mix of more affordable residential and retail options.
Property prices per square metre vary between €3300 - €3800.
Poblenou (Sant Martí)
Poblenou is a district next to the Olympic Village built for the 1992 Olympic Games. It offers proximity to both the city centre, and the sea, however is also renowned for being the location of multiple nightclubs, so care must be taken to avoid being next to or near one of these, if you value peace and quiet.
Also in the Sant Martí district, and more family friendly perhaps, you will find the Diagonal Mar shopping centre. Next to this, are seaside apartment blocks that are among the most expensive real estate in Barcelona.
Property prices per square metre vary between €4800 - €7500.
4. Finding a property in barcelona
Usually the first stop for those who want to sell a flat in Barcelona is to visit their local estate agents to put their property on the market, so this is where you are likely to find what you are looking for.
Real estate agents here typically come in 2 flavours in Spain - large chains such as Technocasa, Don Piso and Engels & Volkers (who seem to specialise in luxury properties) come to mind, and other, smaller, more local real estate agents.
Estate agent fees are typically the responsibility of the seller, though care should be taken by the buyer when this seller's estate agent asks you to sign a reservation contract.
Most foreign buyers assume that if they are signing a reservation contract and paying a reservation fee of €3000 (or more), that this will effectively remove the property from the market. This is quite simply not the case, and typically the real estate agent will simply retain this money and use it as a down payment for the fees they effect to collect from the seller.
Should the sale not go ahead for any reason, it can be quite the job getting the estate agent to return this money - they will attempt to interest you in one of the other properties on their books, whether it matches your original requirements, or not.
It is therefore important for anyone buying Spanish property that they understand the role of the 'arras' contract. This is effectively a 'contract to contract' and establishes which property will be bought by whom, from whom, at what price and when.
Failure to adhere to the terms of the arras contract will typically cause the buyer to forfeit any deposit paid - often a considerable sum, up to 10% of the purchase price of the property, while the seller can expect to lose double the amount of the deposit if they are the responsible party for the failure of the arras contract.
5. Financing your property purchase in barcelona
Most people who plan to buy property - whether in Barcelona or elsewhere, are unlikely to be able to fund 100% of the purchase price from savings or personal wealth.
However, the Spanish property market is unusual in this regard, since many foreign buyers are in fact pensioners who are deciding to retire to Spain and so, may be investing the proceeds of sale of a property in the UK, in which they have seen their equity grow enormously in the last 30 - 40 years.
That said, the profile of typical foreign buyers of property in Barcelona, tends to be somewhat younger and typically, they will end-up speaking to a Spanish bank about a mortgage to help finance the purchase. Given the value of property in Barcelona, it is important to consider the financial impact of all decisions at this time. Fore additional information, see our article on the costs of buying property in Spain.
Getting a mortgage in Spain is as straight forward and difficult as in any other European country.
Typically, if you are a non-resident in Spain, you will be offered a lower loan to value mortgage than residents.
Obviously the amount of any loan will depend on the property price, the amount of deposit provided by the buyer and the ability to repay the loan.
Also relevant will be the purpose for which you are buying the property - is it to be a principal private resident, a holiday home, an investment property etc, since a Spanish bank will be prepared to offer a higher or lower loan to value amount, depending on the purpose of the property purchase.
6. Getting a survey of the property
If you are using a mortgage to finance the purchase of the property, then you will be obliged by the bank to pay for a survey, which you will not receive too much information about, since, while you are paying for it, the objective is for the bank to avoid any loss as a result of the transaction.
If you really want to get a detailed survey, you will need to pay for this separately, especially if you want the report written in English. In terms of structural safety it is unlikely that you will need to be concerned, since buildings in the city need to conform with the various building regulations.
However, there are a number of issues that could affect the property that you might feel more assured going ahead with the purchase once you have a surveyor's report.
One such issue that you should be aware of when buying a House in Barcelona is Aluminosis. This is a fault that affects many of the buildings built in the 60s and 70s in Barcelona. During that time, there was a technological innovation whereby aluminium was added to cement which made the cement dry faster, which saved time and construction costs.
What they didn't know at the time, was that over many years humidity would make the cement lose consistency, putting the stability of the building at risk.
This problem does not affect buildings in cities that are far from the coast like Madrid, but in coastal cities where humidity is higher. So, if you are buying a house in Valencia, for example, you should also bear this in mind. during the 80's and 90's many buildings had to be demolished for security reasons and others had to undergo extensive, and costly, renovations.
If you buy a property in a building that was built at that time, it is important to make sure which cement was used in its construction, and if so, check if the relevant refurbishments have already been taken place, otherwise it is very possible that in the future they will have to be made with the consequent costs and inconveniences.
On the other hand, this should be seen not only as a challenge, but also as an opportunity. If you are a bargain hunter, a property affected by aluminosis may have a discount for this reason, more than what you would reasonably expect to spend on repairs.
For example, you could potentially get a discount of 50,000 euros for a property with aluminosis, while in the future the restructuring works will cost you 1,000 euros and two weeks of inconvenience.
7. Costs of buying a property in barcelona
When considering the total costs of buying a property in Barcelona - in addition to the actual purchase price of the property, you might then want to consider the following:
Mortgage arrangement fee (plus stamp duty)
Surveyor's fee
Notary costs (for signing the property deed)
Land registry office fees (like a title deed tax)
Property Transfer Tax - currently approx. 10% of the value of the property up to €1m, and 11% thereafter. Note, resident tax payers can spread this payment over 12 months. For new properties, VAT is payable at national rate of (for most people) 10%.
Legal fees (lawyers in Barcelona will help you to arrange a tax identification number - NIE, necessary for buying a property, preparation/review of the arras contract, preparation/review of the property deeds/notary visit etc)
Don't forget to take into account ongoing property taxes that you will be liable to pay as a property owner in Barcelona e.g. Council tax, Community payments as well as non resident property tax in Spain if you are not planning to be resident in Spain
Normally, you will need to set aside approx. 12% - 14% of the value of the property you are buying to cover additional expenses (mostly property tax, in reality).
8. Property buying process in barcelona
The following steps are a reasonable summary of the steps normally taken when buying a property in Barcelona:
Begin the search for a property, normally by local estate agents in the district of Barcelona where you would like to live
Consider securing a mortgage, if this will be required
Property found, negotiate price, contact an English-speaking lawyer to handle due diligence
Sign arras contract, which includes agreed purchase price, amount of deposit and date of purchase, as well as repercussions if such terms are not adhered to
Appointment made at notary office to sign the public deeds, along with the representatives of the buyer, seller and bank (if a mortgage is being used)
Deeds sent to the Land Registry for registration of the new title to the property