English-Speaking Lawyers in Barcelona
Which Lawyers in Barcelona? Customer reviews to help you select from the best, most experienced Lawyers in Barcelona
Oscar, Lawyer in Barcelona...
Oscar is a lawyer based in Barcelona who obtained his degree at the Barcelona University 20 years ago. He leads a law firm highly experienced in Real Estate law, Inheritance, Rental Agreements, Family Law, Debt Recovery, Litigation, Breach of Contracts and Immigration. Besides Spanish and Catalan, his firm is also able to provide legal advice and representation in Russian. You can just contact him to arrange an appointment locally in his office, by telephone or Skype.
Oscar has been extremely professional, quite articulate, and detail oriented. I am very satisfied of his assistance
Michel Nasard
19 May 2023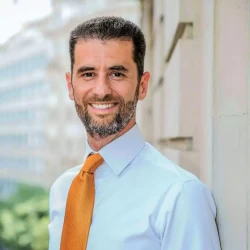 220 completed cases
Speaks languages
Established more than
10 years ago
Present in 20
European Countries
Over 30,000 client enquiries
successfully managed
Why choose Advocate Abroad?